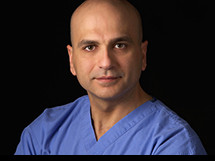 Versah LLC was founded in April of 2014 by Dr. Salah Huwais, a practicing Periodontist in Jackson Michigan. Dr. Huwais created Versah in order to provide dental implant clinicians with an improved and unique way to prepare osteotomies for implant placement. While placing implants over his 18 years of practice, Dr. Huwais consistently experienced the limitations of excavating bone using conventional drills when preparing osteotomies. His goal was to create a new instrument and procedure to maintain healthy bone while preparing osteotomies rather than remove it to simply make space. Osseodensification is the procedure that led to the creation of Versah. The procedure is accomplished using the proprietary instruments Dr. Huwais invented and named the Densah Bur Kit. Contrary to drilling away bone, the Densah Burs are rotated in reverse at 800 – 1500 rpms and when coupled with irrigation, hydro dynamically densify bone through compaction autografting or Osseodensification. The result is a consistently cylindrical and densified osteotomy. Consistent osteotomies and densification are important to implant primary stability and to early loading.
The History of Osteotomy Preparation
Since the early days of dental implantology, osteotomies have been prepared using standard drills designed for use in industrial applications. These drill designs have proved to be functional for dental applications as implant success rates have been satisfactory over time but osteotomy preparation techniques have still been lacking for various reasons. Standard drill designs used in dental implantology are made to excavate bone to create room for the implant to be placed. The goal in implant placement is to achieve primary implant stability which is believed to increase implant osseointegration success. This is more important in recent days due to popular immediate loading protocols being implemented into treatment by many clinicians. Removing bone is contrary to achieving the primary stability desired. Standard drill designs, in twist or fluted shapes, cut bone effectively but typically do not produce a precise circumferential osteotomy. Osteotomies may become elongated and elliptical due to chatter of the drills. In these circumstances, the implant insertion torque is reduced leading to poor primary stability and potential lack of integration. Osteotomies drilled into narrow bone locations may produce dehiscence, buccally or lingually, which also reduces primary stability and will require an additional bone grafting procedure adding cost and healing time to treatment.
Meet the UK Versah Family
Jason Buglass BDS – Director
Jason Buglass has been providing implant dentistry since 1993, and has placed thousands of implants since then. He lectures in the UK, having successfully run courses teaching implant dentistry since 2000. He attends national and international congresses and is a member of the Association of Dental Implantology.
"His extensive experience means he can offer advice and tips to new and existing users of the system, which many find extremely supportive. Having a dentist who still does implant dentistry ensures the company retains clinical focus."
Emma Buglass – Marketing Director
Emma returned to work after an 11 year break in September 2015 to join her husband in the family business. Emma Graduated in Dentistry in 1996 with Honours and Clinical distinction and has maintained an avid interest in the subject. Emma's interests outside of work include singing, musical theatre, walking the dog and coordinating the social activities and transportation of her 4 children.
Check out our precise manufacturing process. We take pride in our products, holding ourselves to the highest quality.